The list of members below only shows those members that are permitted and want to be listed. If you want your details listed then please ensure that you have met all of the necessary requirements for the organization and then check that the 'Show me in the Breeder List' option is checked in your profile. If you do not see the option there beneath the Password reset button, then you will need to Contact Us.
The breeder's list below can be searched by entering terms in the search box. Each term is required in the list entry for it to be displayed.
The map shows the locations of our members, but their contact details will only be displayed (when you click on the location) if they have chosen to be listed on this page.
Attention BUYERS
If you want to be sure you are getting a pure guinea hog, buy from a reputable breeder who is an AGHA member. Do not accept the animal without proper documentation. Piglets from a registered litter must show the permanent registration number on the AGHA form given to you. Any application to register a piglet or hog whose litter was not previously registered must have the parentage and their registration numbers listed on the form. Ask if the breeder if he/she is a member of the American Guinea Hog Association. Specifically ask if the boar and sow are AGHA registered. Our members abide by a Code of Ethics in dealing with the public and fellow breeders.
Loading Breeder List – Please Wait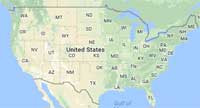 State
Last Name
Data
Maine
Bye

Matthew Bye

Hams Hill Homestead

Herd size: 3

207-671-0937

South Casco, Maine

bohica822(Replace with @)yahoo.com

Michigan
Shepard

Randy Shepard

1/2 Ass Acres

Herd size: 3

616-890-9544

Sunfield, Michigan

randy(Replace with @)halfassacres.net

Florida
Wsbk

Lifetime

Tallahassee, Florida

mdrotts(Replace with @)yahoo.com

WSBK (est. 1993) is a small farmstead in the Florida Big Bend area which currently is home to six young AGHs, about 40 chicken, several horses, multiple barn cats and several dogs. Of the AGHs, one boar is registered, two gilts (sows) will be registered in the near future. We also have an unregistered boar and two barrows (for our own Camp Freezer). In the future, we hope to expand the herd by both purchasing other sows and begin a carefully planned breeding program. We are committed to the future of the breed and hope to contribute significantly.

Nebraska
Kneifl

Jim & Rachel Kneifl

Ionia

Herd size: 4

402-672-2332

Newcastle, Nebraska

jimrachelkneifl(Replace with @)gmail.com

Ionia Farm is in Northeast Nebraska real close to the South Dakota border. Our breeding stock includes three sows and one Boar. We are in love with this breed and would love to share this love with others who are interested in this unique breed of hogs. We also raise goats and other heritage breeds of animals.

Indiana
Baker

Jeffery L. Baker

Windy Acres

Herd size: 9

574-849-7405

Bristol, Indiana

mjbake80(Replace with @)yahoo.com

I was raised on a farm with livestock. I have recently had the opportunity to raise livestock again and wanted to get guinea hogs. I find they are very smart and docile. My grandchildren love having them around. I'm looking to sell breeding stock, as of now I have six boars an two guilts full blooded breeding stock available, some of them already named and registered.

Georgia
Dorsey

Tom & Kimberly Dorsey

Earth Blessing

Herd size: 7

706-336-8413

Commerce, Georgia

ecutuning(Replace with @)windstream.net

We are Earths Blessing Farm and Have been raising hogs for about ten years, but have just gotten into Guinea Hogs this year (2017).

Tennessee
Palmer

Ian Palmer

Palmer Farms

Herd size: 7

931-637-7818

Lewisburg, Tennessee

ianpalmer(Replace with @)palmerfarmstn.com

We have raised American Guinea Hogs since 2015. Their smaller size and low impact on the land makes them a perfect fit for our rotational system. As almost all of our animals are sold for meat that determines our breeding selections. Please feel free to contact us with any questions and check out our website at www.palmerfarmstn.com.

New York
Wells Sr.

Brian L. Wells Sr.

3B Farm

Herd size: 3

518-744-7858

Greenwich, New York

blwells45(Replace with @)gmail.com

Massachusetts
Wright

Seth Wright

Timber Haven

Herd size: 4

208-313-0311

Warwick, Massachusetts

sethdw22(Replace with @)hotmail.com

At Timberhaven Farm we raise a mixed flock of poultry and a small herd of guinea hogs (one boar and three gilts). We currently have a few feeder piglets available and will have registered litters in the spring. We are happy to raise your hog for you on our farm if space is limited for you. Happy to answer any questions, just ask!

Georgia
King

Sam King

Hallowed Acres Farm

Herd size: 3

770-527-5740

Woodbury, Georgia

kc5gsk(Replace with @)gmail.com

I'm the owner of HallowedAcres Farm. We have American Guinea Hogs (Sumrall Bloodline), Bielefelder Chickens and have a Heritage Market Garden. We strive to improve genetics in everything we raise.

Michigan
West

Thom & Andrea West

Raspberry Hill Homestead

Herd size: 3

269-753-6131

Bellevue, Michigan

blueyemigrl(Replace with @)hotmail.com

Washington
Archer

Melissa Tatro Or Jeff Archer

Herd size: 2

206-778-8235

Kent, Washington

farmlivinglady(Replace with @)gmail.com

We are a small farm in Kent Washington with 2 sows, one boar and 9 piglets born 11/28

Indiana
Parks

Allen Parks

Parks Family Farm

Herd size: 6

812-766-2882

Winslow, Indiana

ivaroadparksa(Replace with @)hotmail.com

Colorado
Beaumont

Angela Beaumont

Split Melon Farm

Herd size: 3

970-413-1211

Wellington, Colorado

splitmelonfarm(Replace with @)yahoo.com

Splitmelonfarm.com

Indiana
Dickerson

Kim & Brian Dickerson

Bottom of the Y Farm

Herd size: 8

765-721-3478

Greencastle, Indiana

logicalprepping(Replace with @)yahoo.com

Hi. We are a small farm just outside of Greencastle, Indiana. We currently have two breeding sows and a boar.

Maryland
Serebruany

Mike Serebruany

Helen's Farm

Herd size: 4

443-285-3478

West Friendship, Maryland

mvs13925(Replace with @)gmail.com

Located in Western Howard County, Maryland. Trying to find a home for a 2 year old boar stud.

Maryland
Rozanski

Victoria Rozanski

Clear Morning Provisions

Herd size: 20

301-274-9031

Hughesville, Maryland

clearmorningprovisions(Replace with @)gmail.com

Registered American Guinea Hogs ( blue and black varieties), Fine-fleeced Shetland Sheep, Miniature Dairy Goats, Sebastapol & Pomeranian Geese, Maran, American Breese & German New Hampshire Chickens.

Kansas
Fischer

Clearwater, Kansas

ictfischer(Replace with @)yahoo.com

Located in South Central Kansas

New York
Mauro

Steve & Deb Mauro

La Vista Collina

Herd size: 4

716-358-4903

Randolph, New York

dmauro39(Replace with @)gmail.com

We are a small farm with one boar, one sow, and one gilt, all unrelated and registered, to be used for breeding. We plan to grow our own meat and will offer the same service to a handful of other people wishing to enjoy this wonderful pork. We currently have one registered 8 month old gilt with 11.3% COI for sale for breeding purposes.

Indiana
Harley

Valerie Harley

Herd size: 4

317-716-7717

Martinsville, Indiana

val080860(Replace with @)hotmail.com

I have a small homestead located 25 miles southwest of Indianapolis. Nice quality piglets available once or twice a year.

Nebraska
Theobald

Paul Theobald

Middle Earth Farm

Herd size: 3

402-369-3817

Osmond, Nebraska

ptheobald36(Replace with @)gmail.com

We chose a hobbit theme eight years ago when we bought this northeast Nebraska farm--Guinea hogs are perfect for this place and for that theme!

Missouri
Joyce

Ethan Joyce

Briar Rock Farm

Herd size: 5

636-328-4123

Sullivan, Missouri

ethan(Replace with @)briarrockfarm.com

Washington
Baumgardner

Keith Baumgardner

Herd size: 15

951-966-1430

Monroe, Washington

davidbaumgardner(Replace with @)att.net

KB Farms is a small farm with AGH in various stages. Our hogs are pasture raised and all natural.

New York
Parker

Lee Or Patricia Parker

Leep-At Farm

Herd size: 8

716-965-2515

Forestville, New York

lparker(Replace with @)find-it-us.com

We are a retired mailman and an long-time farm-girl. Over the years of hobby farming, the name Leep-At Farm has been on Ayrshire cattle, Alpine goats, Dexter cattle, and since our first litter last year American Guinea Hogs. During the years our interests and needs have changed with our children (all adults now) growing, and assorted health issues. We like the AGH for the convenient size and ease of handling, ours will follow for a scoop of sunflower seeds (or be distracted if we need to do something in the pen without piggy "help").

Michigan
Burgher

Jason Burgher

Burgher Bend Family Farm

248-736-4353

Armada, Michigan

jaymadcow(Replace with @)gmail.com

North Carolina
Ceparano

Jacob Ceparano

Clean Hearts Farm

Herd size: 4

919-323-2703

Graham, North Carolina

jacob.ceparano(Replace with @)yahoo.com

Family run farmstead raising livestock the way early Americans did...with little external inputs. Our breeding program is based on the thrift of the pig. We are committed to transparency and building quality while honoring it's history. WE STAND BEHIND OUR BREEDING STOCK! If your not satisfied with your stock from us we'll replace it.

North Carolina
Silverthorn

Philip Silverthorn

Silverthorn Heritage Farms

Herd size: 7

404-553-6146

Scaly Mountain, North Carolina

farm.heritage(Replace with @)aol.com

Silverthorn Heritage Farms, is located in the Southern Appalachians of Western North Carolina, at an elevation of 4000'. We specialize in heritage farm breeds. Selling breeders & feeders. We also have a blacksmith shop and a retail store, " The Homesteading Supply Co." , with a emphasis on education, in self-sufficiency & homesteading.

New Hampshire
Kinson

603-313-0110

Marlow, New Hampshire

sinister_green(Replace with @)yahoo.com

Illinois
Gioja

L. Bonje Gioja

Joy of Illinois Farm

Herd size: 22

217-863-2758

Champaign, Illinois

joyofillinois(Replace with @)yahoo.com

Now in college, I was born and raised on our farm. I chose to be different from my older siblings and raise pigs rather than ruminants. The docile temperament and smaller size of AGHs makes them fun to raise and not scary like my earlier commercial hogs. We brought our first breeding pair home in 2015. Our pork customers rave about the tasty meat! We sell the whole, live animal and deliver it to the locker nearby to be processed. The best pigs are sold for breeding stock.

Illinois
Dykstra

Laura Dykstra

Dykstra's Farm

Herd size: 47

815-337-0493

Woodstock, Illinois

dykstrazoo(Replace with @)sbcglobal.net

We have a small hobby farm in northern Ilinois. Livestock include smaller-sized heritage breeds...Guinea Hogs, Fainting Goats, Southdown Sheep, English Shepherds. We are fairly new to farming, after raising most of our kids in suburbia. I'm loving the change to fresh air and not as much taxi-mom volunteering...family is warming up to it slowly. Everyone loves the guinea hog pork and bacon, so the pigs are here to stay! 🙂

Oklahoma
Havens

Jon & Emily Havens

The Havens Homestead

Herd size: 27

405-361-2933

Wynnewood, Oklahoma

lovinjkh(Replace with @)yahoo.com

Havens Homestead is nestled in a valley of the Arbuckle Mountains of Oklahoma. Don't blink or you'll miss them. We started our homestead journey with chickens and turkeys, but quickly moved on to American Guinea Hogs. We've had these remarkable animals close to seven years now and have never looked back. We are honored to be a part of the guinea hog recovery from critically endangered to now on the watch list! We normally always have unregistered but pure feeder piglets available. We have a waiting list for whole and half orders if you are wanting to try the best pork you've ever had! Generally, we will have registered breeding gilts available. I take reservations for registered boars and will pick the best of the litter to remain intact. Our herd consists of: Pepper, the matriarch sow who is from the first litter born on our farm. Harley Quinn, an oops mama who has turned out to be so fantastic she has stayed with us as a breeder. Diana, Harley's sister and even better mother; fierce in the protection of her babies from predators. She's the first one to greet you at the gate and loves to be pet. Hank McCoy, is our new boar. He's still young and unproven but is a sweet boy and a CHUNK...which has earned him the nickname Hank the Tank. He is from blue lines and we're watching closely to see if he will turn blue or produce blue offspring!

Texas
Mcdaniel

Lifetime

Jesse & Wendy Mcdaniel

JW Mcdaniel Farm

Herd size: 23

713-408-1227

Carmine, Texas

wendy_mcdaniel(Replace with @)yahoo.com

What started out as one pig has become a passion! We have been raising AGH since 2010 and could not be happier with the meat and joy that they bring to our lives. We typically have breeding stock available, registered and non-registered, as well as meat hogs. Give us a call. We love to talk pig!

Kentucky
Dorminey

Donna Dorminey

Solomon's Wisdom Farm

Herd size: 49

270-307-5028

Upton, Kentucky

dmdjd(Replace with @)yahoo.com

Wisconsin
Baker

Deborah A. Baker

Chapel Top Heritage Hope Farm

Herd size: 44

608-346-2196

Tony, Wisconsin

chapeltopfarm(Replace with @)outlook.com

Providing Registered Breeding Stock~ Market Pigs and Perfect Portion Pork https://deborahbaker261.wixsite.com/chapeltopfarm

Michigan
Barnes

Karen Barnes

Bits and Pieces Farm

Herd size: 17

616-893-5251

Wayland, Michigan

kabar77(Replace with @)yahoo.com

New York
Neal

Susan Neal

Wiccaway Farm

Herd size: 11

607-279-0403

Beaver Dam, New York

wiccawayfarm(Replace with @)aol.com

Wiccaway Farm is a small family farming specializing in heritage livestock. Occasionally we have AGH breeding stock and feeders for sale. Contact for more info. Text or call 607-279-0403. Beaver Dams NY

Oklahoma
Lawson

Tim Lawson

Osage Iron & Exotics Ltd

Herd size: 5

918-638-6834

Sand Springs, Oklahoma

nailbender45(Replace with @)gmail.com

Texas
Mutz

Darrell & Misty Mutz

Herd size: 23

210-889-0932

Elmendorf, Texas

mutzfarm(Replace with @)gmail.com

We are located near San Antonio, TX. We love our animals. Rather you are looking for a pet, breeding stock, feeders for freezer camp, etc. contact us and we will try to help. ----- Website ----- MutzFarm.com ------ You Tube AGH playlist ----- https://www.youtube.com/channel/UCLO4vJyT_RMNGJXnlPs6VqQ ------ Facebook Page ----- https://www.facebook.com/mutzfarm/ ------

Georgia
Payne

Cathy R. Payne

Broad River Pastures

Herd size: 68

706-283-7946

Elberton, Georgia

broadriverpastures(Replace with @)gmail.com

My breeding herd has 13 hogs. I keep about 20 growing out for meat and another 5 for breeding stock to sell at any given time. I am writing the first history documenting the American Guinea Hog. I have a small farm in northeast Georgia and raise rare lines of Guinea Hogs including the Sumrall line and recovered Maveric hogs with Keene/Brown, Hesters, Read, and Hale genetics. I am a founding member and organizer of the Historic Hogs Network of conservation breeders. I also developed the American Guinea Hog Selection Matrix (not associated with the AGHA). I am an active member of the AGHA and The Livestock Conservancy. About my herd: At the time of this posting, 2018, I have a breeding herd of 8 sows and 5 boars (13 total). Each boar has a differing genetic background so I can provide relatively unrelated stock if that is what you are thinking, or more related stock for focused linebreeding. Because of my interview research, I have a deep understanding of the genetics in my herd. My focus on conservation of the breed and various lines within the breed. I work to carefully place stock that meets buyer's breeding goals. Only a small percentage of each litter is selected for breeding stock. I cull hard from good genetics. Only one boar is selected from each litter to avoid overuse of a single boar in the population. One to three gilts are selected. I train shoats to electric fencing after weaning and socialize them before they leave the farm. I do not vaccinate or worm my hogs. We do not keep any hogs in a barn. They are on pasture from the day they are born in a portable shelter or other spot mama chooses. I select for a gentle temperament and healthy body structure suitable for reproduction. Thank you for your interest in this wonderful breed.

New York
Rowland

Jack Rowland

Badflash Brewing LLC

Herd size: 49

845-489-8826

Malden Bridge, New York

jack(Replace with @)badflashbrewing.com

Feel free to contact me with general questions about Guinea Hogs, even if you don't want to buy. I love to talk hogs. I normally have quality registered piglets as well as barrows. You can also find me on https://www.facebook.com/groups/317519622349/

Indiana
Mahoney

Rebecca Mahoney

Joyful Noise Home - N- Stead

Herd size: 30

574-529-3266

Macy, Indiana

r.c.mahoney59(Replace with @)gmail.com

JoyfulNoiseHome-N-Stead.com is the home to American Guinea Hogs, St Croix Hair Sheep, and our family! We raise these wonderful rare pigs and sheep primarily for our own meat and also to provide quality breeding stock to others. We have piglets and lambs, proven breeding stock, and butcher-ready barrows available.

New York
Ingraham

Lifetime

Angela Ingraham

Flint and Steel Farm

Herd size: 43

585-374-2695

Naples, New York

flintandsteelfarm(Replace with @)gmail.com

Flint and Steel Farm on Facebook I started raising Guinea Hogs almost 11 years ago and love them more each year!

Georgia
Farnsworth

Ron & Andrea Farnsworth

Farnsworth Family Farm

Herd size: 40

912-271-5087

Fleming, Georgia

r_farnsworth(Replace with @)msn.com

We are located in southeast Georgia, just a few minutes south of Savannah. We chose this breed after extensive research and feel that this breed provides the best meat for our family. We have been involved and breeding since 2009. We do not have 40 hogs. We have 12. Also we do not have the website that is listed. You can contact us by email phone or FB.

Arkansas
Hertlein

Donna Hertlein

#3 Hill Place Farm

Herd size: 19

423-596-1767

Paris, Arkansas

donnahertlein(Replace with @)gmail.com

I began my AGH adventure in 2010 with the purchase of Skyfire Pete and Skyfire Pulp. My line of pigs is now #3HillPlace. I chose AGH because they are considered the historical breed of Southern homesteads. Sadly, Skyfire Pete is now deceased, but Skyfire Pulp lives on (and has been selected to be one of our DNA bank examples). In my "other" life I have 25 years of experience in the natural resources profession working over a wide scope of conservation issues in the public and private sector.

Illinois
Niemann-Boehle

Deborah Niemann-Boehle

Antiquity Oaks

Herd size: 9

815-358-2450

Cornell, Illinois

deborahwrites(Replace with @)gmail.com

We've been raising AGH since 2011 when we got our first breeding pair. We usually have breeding pigs for sale, and we sell pork by the whole hog in the fall after the pigs have been eating lots of acorns and hickory nuts. We also raise goats, sheep, and poultry. You can learn more about our farm by visiting our website.