NOTICE – Online Registrations Forms are not Available at This Time
Due to technical issues the online registration forms are currently down. Please contact Angela directly if you have any questions president@guineahogs.org!
We apologize for any inconvenience this may cause.
ATTENTION AGHA MEMBERS!
As of January 1st, 2017, changes have been made to the Litter Registration and Hog Registration Forms in an effort to better facilitate the choosing and tracking of breeding animals. Please take a moment to read the following and please feel free to contact us with any questions or comments.
Thank you,
your Board of Directors
Letter From the President
Looking back on our progress in 2016, we would like to thank all of you, our members; for your support, for your valued input, and for your continued patience. With your help, we were able to accomplish many of our goals, including updates to our Bylaws and other legal formalities, and the implementation of our Genetics Recovery Program. With these in place, we look forward to the next steps in refining the Association's policy procedures, formatting guidelines for new breeders, providing marketing assistance for all breeders and to further promoting the breed through various venues. As always, your ideas and suggestions are welcome and appreciated.
As we usher in 2017, we look forward to another year of growth for the AGHA. What amazing strides have been made since a small group of dedicated people took on the responsibility of preserving this amazing breed. With growth comes change and we find that as the number of registered pigs increases, we need to refine some of our procedures to more closely identify and track our numbers. In January, you will receive, via MailChimp, a Herd Census Form. This will help us track as many registered animals as possible, and better understand how many breeding animals are alive. We have also made some changes to our Litter Registration and to Adult Hog Registration fees, as well as putting into place ID requirements for newly registered animals. Details about these changes are in the section " Association News" .
With the health of our population secure, we as breeders have the duty to offer the best from our breeding programs to potential buyers. Gone are the days that many of us remember from when the numbers were so small that almost every piglet was valued as breeding stock. We now have the luxury, and the responsibility, to choose those piglets that best fit what each of us want from our breeding program. The challenges for each of us is deciding what makes our ideal Guinea Hog. The "Upside" of a Landrace breed is the variation within the breed, lacking tight standards that need to be followed in choosing breeding stock. This also, however, becomes the "Downside", in that there are no specific guidelines to help breeders. Until a Breeder's Guide can be developed, which is a huge hurdle for a volunteer organization, we must all depend on good common livestock sense and the network of breeders for assistance. We are, therefore, asking that starting this year, that each of us takes more time evaluating piglets to be registered, rather than registering whole litters. Because it is often difficult with younger piglets, there is now less cost difference for registering piglets over 3 months of age.
Change…I know……it's more like a four letter word for many of us, but it is long due. We have tried to make it as user friendly as possible and in the breed's best interest. After all, isn't that why we're all in it? If it wasn't for the love of these special hogs, we could all be raising only standard breeds.
Perish the thought.
~Angela
Welcome to the
American Guinea Hog Association
Are You a Member of the AGHA?
Have an interest in guinea hogs but are not a member of the AGHA? That's okay, anyone can participate in our forum! Just click the Forum tab above and join in the discussions.
If you are an AGHA member and wish to utilize member services, please read here to learn how.
The AGHA is an organization with emphasis in the preservation of the American Guinea Hog. The AGHA promotes and supports the breeding of healthy Guinea Hogs while maintaining genetic diversity. This registry belongs to all American Guinea Hog Association members and as such, all voices will be heard and welcomed.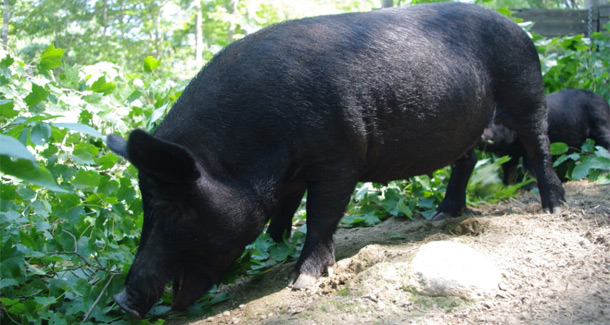 The American Livestock Breeds Conservancy (ALBC) classifies Guinea Hogs as critical on the Conservation Priority List.
The American Guinea Hog Association was formed in 2005 to preserve this rare breed for future generations of farmers and ranchers wanting a smaller pig to produce pork for the family on farms and homesteads.
Whether able to partake in the physical preservation of this great breed, an interested observer, or someone looking to purchase products from our membership, we welcome you.
REGISTRATION PROCEDURES ARE POSTED ON THE REGISTRATION PAGE.
Anyone interested in preserving this breed is encouraged to become a member.
Visit our Breeders page to purchase American Guinea hogs for your farm or homestead.
Join in on our on-site discussion forum on the Forums tab above to learn more about this rare breed from farmers devoted to their preservation!