ATTENTION AGHA MEMBERS!
AGHA ANNUAL MEMBERSHIP MEETING
via teleconference
Tuesday November 15th at 8PM Eastern (7PM CST, 5PM PST)
 
Teleconference phone number 1-302-202-1106
code # 142394
All are welcome to participate.
—
Your vote is needed for two important proposals
1. An updated set of Bylaws has been prepared with the help of Not-for-Profit Attorney Jessica Birken. This will replace our original Bylaws and is in compliance with rules governing 501(c)(5) Non-Profit Organizations as well as following all Minnesota laws, the state in which the ALBC is incorporated. Please find a link to the proposed Bylaws below for your consideration
— 2016 AGHA Bylaws
2. The Genetics Recovery Initiative has been carefully prepared by the board for the purpose of recovering genetics which are absent or under represented in the AGHA Registry. When the herd book was closed in 2006, there existed Purebred Guinea Hogs which, for various reasons, were not registered. These hogs/herds have been maintained with written and/or oral records for generations. This proposal allows for applications to be submitted and, with strict guidelines followed, inclusion into the AGHA Registry may be possible. The proposal protects the future purity of the breed while allowing reintroduction of important bloodlines into the gene pool. Please find a link to the Genetics Recovery Initiative below for your consideration
— AGHA Genetics Recovery Initiative
Voting period October 10th through November 10th. Results will be announced at the General Membership Meeting via teleconference November 15th
***Voting will be conducted by an outside firm. PLEASE WATCH YOUR E-MAIL for a ballot from ELECTIONBUDDY. This e-mail may come to your Spam or Promotions folder, so please be on the look out. The e-mail will assign you a personalized code to enter when voting, insuring security.
If you need help or have any questions, please contact Angela at president@guineahogs.org
Thank you, the success of our Association depends on YOU!
Welcome to the
American Guinea Hog Association
Are You a Member of the AGHA?
Have an interest in guinea hogs but are not a member of the AGHA? That's okay, anyone can participate in our forum! Just click the Forum tab above and join in the discussions.
If you are an AGHA member and wish to utilize member services, please read here to learn how.
The AGHA is an organization with emphasis in the preservation of the American Guinea Hog. The AGHA promotes and supports the breeding of healthy Guinea Hogs while maintaining genetic diversity. This registry belongs to all American Guinea Hog Association members and as such, all voices will be heard and welcomed.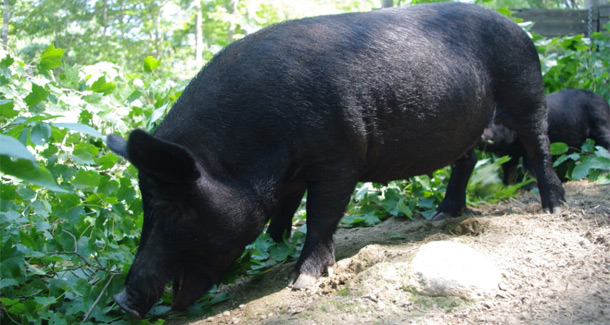 The American Livestock Breeds Conservancy (ALBC) classifies Guinea Hogs as critical on the Conservation Priority List.
The American Guinea Hog Association was formed in 2005 to preserve this rare breed for future generations of farmers and ranchers wanting a smaller pig to produce pork for the family on farms and homesteads.
Whether able to partake in the physical preservation of this great breed, an interested observer, or someone looking to purchase products from our membership, we welcome you.
REGISTRATION PROCEDURES ARE POSTED ON THE REGISTRATION PAGE.
Anyone interested in preserving this breed is encouraged to become a member.
Visit our Breeders page to purchase American Guinea hogs for your farm or homestead.
Join in on our on-site discussion forum on the Forums tab above to learn more about this rare breed from farmers devoted to their preservation!