Welcome to the
American Guinea Hog Association
Are You a Member of the AGHA?
Have an interest in guinea hogs but are not a member of the AGHA? That's okay, anyone can participate in our forum! Just click the Forum tab above and join in the discussions.
If you are an AGHA member and wish to utilize member services, please read here to learn how.
The AGHA is an organization with emphasis in the preservation of the American Guinea Hog. The AGHA promotes and supports the breeding of healthy Guinea Hogs while maintaining genetic diversity. This registry belongs to all American Guinea Hog Association members and as such, all voices will be heard and welcomed.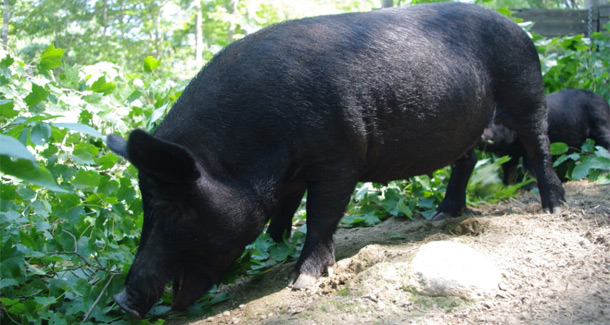 The American Livestock Breeds Conservancy (ALBC) classifies Guinea Hogs as critical on the Conservation Priority List.
The American Guinea Hog Association was formed in 2005 to preserve this rare breed for future generations of farmers and ranchers wanting a smaller pig to produce pork for the family on farms and homesteads.
Whether able to partake in the physical preservation of this great breed, an interested observer, or someone looking to purchase products from our membership, we welcome you.
REGISTRATION PROCEDURES ARE POSTED ON THE REGISTRATION PAGE.
Anyone interested in preserving this breed is encouraged to become a member.
Visit our Breeders page to purchase American Guinea hogs for your farm or homestead.
Join in on our on-site discussion forum on the Forums tab above to learn more about this rare breed from farmers devoted to their preservation!