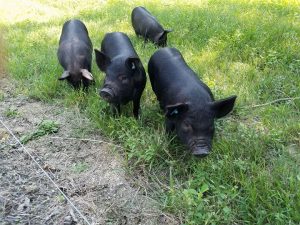 Description
REGISTERED GILTS FOR SALE
Registered gilts for sale in south-central Virginia, ready for pickup now.
VALUABLE WEST COST GENETICS ON THE EAST COAST
We sell only quality breeding stock with excellent confirmation and no white markings. We cull heavily.  Pasture-raised with no antibiotics or hormones.  Very affectionate, well socialized, eat a variety of vegetables, nuts, and grains.
PRICE
$250 and up (depending on age)
LINEAGE
Litter #1 Sow (Old Crowe Lucy) x  Boar (Cascades's 2013 06 "Jesse) BORN 5-24-17
Litter #2 Sow (Gods Blessing Deirdre) x  Boar (Cascades's 2013 06 "Jesse) BORN 8-17-17
PEDIGREES
Available registered breeding stock and their associated pedigrees are available on our web site:  http://oldcrowefarm.com/heritage-livestock/american-guinea-hogs/buy-purchase/
NEW TO GUINEA HOGS?
Come stay with us for a day (or two) and let us share with you all that you need to know to get started with a mentoring session. Our Farmstay B&B is now open.
For more information, email us at info@oldcrowefarm.com or call us at 434-735-0139.
—————————————
Jim & Jacqueline Moyer
Old Crowe Farm
Red Oak, Virginia
434-735-0139
info@oldcrowefarm.com
www.oldcrowefarm.com