Product

Current Price
Bids Placed
Ending
Auction Details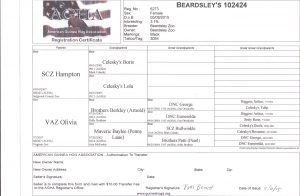 AGHA will conduct a members-only piglet auction starting at 8 p.m. Eastern time February 13th and ending at 8 p.m. February 17th. A total of 2 piglets will be auctioned. The piglets are about 60-70 pounds each, and there are 2 gilts. Only one auction will be held at any time. The winning bidder will have the choice of taking any available piglet.
Be sure your contact information is up-to-date. To do so, go to guineahogs.org, log on and click on the "Account" tab. The winner will receive an automatic notification, so it is very important that your registered email is correct.
Nothing will appear on the auction page of the website until it starts. The auction will vanish when it is complete. 24 hours after one auction ends, another one will begin. All auctions will last four days each and will continue until all piglets have been sold.
Bidding will start at $200 and go up by $5 increments. The winning bidder must pay a 50% deposit per piglet via Paypal within 24 hours of the closing of the auction. Full payment must be made within 7 days of auction closing.
Shipping is the responsibility of the buyer, and all pigs must be picked up or shipped within 14 days of auction closing. If pigs are not shipped or picked up within 14 days, the buyer will pay a boarding fee of $5 per day for each additional day. If piglet is not shipped or picked up within 30 days of auction closing, the sale will be void with no refund, and the piglet will be auctioned again.
Pigs are currently in Naples, NY. The buyer or a designated agent can pick them up at the farm. Buyer must pay all shipping costs, as well as the cost of a certificate of veterinary inspection. All bidders should be absolutely certain that shipping is possible before bidding on any pig.
They can also be shipped by plane. Buyer must pay the cost of shipping, the cost of a plastic dog crate and supplies for shipping, and the cost of a certificate of veterinary inspection. The nearest airport is in Elmira, which is serviced by Delta airlines. If a flight or connection is not available from there, they can be shipped from Rochester.
The piglets weigh around 60-70#, and shipping weight is the weight of the pig plus the weight of the crate, which will be at least an additional 15#. The piglets can fit into a 36-inch dog crate. The buyer can ship their own airline-certified crate to Naples, NY, or they can purchase one online and have it shipped directly to the farm. Many online pet sites offer free shipping with orders over $50, and they include weight of the crate in their product descriptions. Wire crates are NOT accepted by airlines for shipping. The crate must be plastic and the top and bottom sections must be held together with bolts. Crates that snap together are not accepted by airlines. Here is an example of the type of crates that are accepted for air travel: http://www.drsfostersmith.com/product/prod_display.cfm?c=3307+10627+27073&pcatid=27073
The Pigs:
Gilts:
#56 is the very largest. Her coat is thick and straight . She has large hams and is very solid. She has 11 teats
#57 is the chunky girl and is the most independent. She has big hams and a squarer shape. She has a thick, wavy coat. She has 12 teats